Obituary for Stephen M. Wile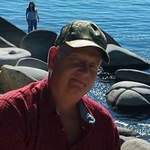 Stephen M. Wile, 63, of Waldoboro passed away unexpectedly on March 6, 2017 at his home. Steve was born on April 10, 1953 in Ipswich , Massachusetts to Robie L. Wile, Jr. and Gertrude (MacDonald) Wile.

He moved to Waldoboro, Maine from Ipswich when he was 13 years old. He graduated from Medomak Valley High School.

Steve wore many hats over the years. He was a Maine State Prison guard, a crane mechanic at Bath Iron Works for 16 years, (he put the tree on top of the crane), and the owner/operator of Robie's Septic. His motto was "A straight flush beats a full house!" He was also a truck driver for Jake Barbour. He finished his career delivering propane and fuel for Kalloch Fuel and Dead River.

He was a member of the Elks Lodge #1008 and the Rockland Emblem Club #200.

He loved the outdoors, scuba diving for scallops, 4-wheeling, motorcycling, hunting, fishing and "riding" his son-in-law. It was all about making memories and enjoying his time with his grandchildren.

He was predeceased by his mother Gertrude (MacDonald) Wile and his brother William Wile and best friend Fred Lee.

Steve is survived by his wife Linda Wile of Waldoboro, his father, Robie L.Wile, Jr. of Waldoboro, his brother Mark Wile and wife Jessie of Waldoboro, Sister in-law Sara (Sally) Wile of Waldoboro, daughter Rachel Alden of Rockland, daughter Jennifer Vane and husband Michael of Harrison, daughter Ariel Waleski and husband Brian of Saco, daughter Marcia Provencher and husband Eric of St. Albans, son Michael Wile of Windsor, son Jason Humphrey and wife Judi of Arizona, son Amos Humphrey and wife Alice of Newport, 11 grandchildren, and several nieces and nephews. Steve also had many extended family including Janet Lee, Stephanie McGary, Anna and Charlie Sodergren, and many more.

A celebration of Stephen's life will be held on Saturday, March 11, 2017 at the Odd Fellows Hall at 37 Camden Road in Warren at 1:00 p.m.

In lieu of flowers, donations may be made in Stephen's name to Pope Memorial Human Society, 25 Buttermilk Lane, Thomaston, Maine 04861.

Hall's of Waldoboro has care of the arrangements. To extend online condolences, please visit www.hallfuneralhomes.com.



Order Flowers